HIV/AIDS
Background
Human Immunodeficiency Virus (HIV) is a virus which infects certain cells of the immune system such as T cells (specifically CD4+ T cells) and causes a lifelong severe illness with a long incubation period. When HIV attacks the immune system so serious that the patients can't fight off infections and disease, HIV infection leads to acquired immunodeficiency syndrome stage, or AIDS.
HIV can be transmitted by sexual contact, by sharing needles or syringes for drug injection, or through blood transfusions with a HIV infected person. Also, babies born to HIV-infected women may become infected or during birth or through feeding breast milk.
Although there is no safe and effective cure for HIV, there exist some effective combination therapies combination therapies, which conduct impressive efficiency on prolonging life expectancy of HIV-infected people, and even lowering their chance of infecting others. It is important that HIV-infected people have the medical care and treatment early and have the greatest effect.
Epidemiology
The first HIV case in Taiwan was reported in 1984. As of the end of 2013, the total number of HIV cases had been accumulated to 26,475 (11,176 of whom had developed full-blown AIDS and 4,171 cases had deceased). The number of HIV infections among the injecting drug users (IDUs) began to surge since 2003 and then consistently decreased since Taiwan CDC harm reduction programs. In 2008 and thereafter, the epidemic took a turn; infections mainly occurred through sexual encounter.
Of Taiwanese nationals infected by HIV in 2013, 2,191, or 98%, were males and 52, or 2%, were females. The ratio of infected males to females was 42:1. The largest number of infections in 2013 was in the 20 to 29 age group, accounting for 1,143, or 51.0%, of all cases. The second largest group was the 30 to 39 age group, numbering 659, or 29.4%, of all cases. An analysis of risk factors showed that in 2013, the highest proportion of HIV infections was a result of unsafe sexual transmission, with men who have sex with men (MSM) accounting for 80% of all cases. The second largest proportion of infections was heterosexual contact, accounting for 12%. (see Figure 1).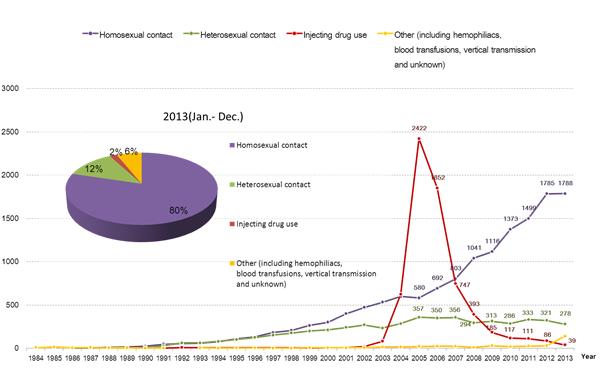 Figure 1: Statistics on Risk Factors of HIV Infections in Taiwan, 1984-2013
Prevention and Control
Reducing the number of new HIV infections.

Universal access to antiretroviral therapy for people living with HIV/AIDS who need it.

Provision of essential care and ongoing support for all people living with HIV/AIDS.

Laws and Regulations.
Q&A
1. What are HIV and AIDS?
AIDS also known as acquired immunodeficiency syndrome; referred to AIDS is a disease caused by the HIV virus which violated the human immune system. People infected by HIV usually do not immediately lead to AIDS. At first, you may not have any symptoms or get sick during this time. Without treatment, the HIV virus will virtually continuous attack the immune system, so the infected person gradually lose immunity, and even death.
2. How is HIV transmitted?
Only certain fluids—blood, semen (cum), pre-seminal fluid (pre-cum), rectal fluids, vaginal fluids, and breast milk—from an HIV-infected person can transmit HIV.
In Taiwan, HIV is spread mainly by injection drug users and having sex with someone who has HIV, including anal sex, vaginal sex and having multiple sex partners. Less commonly, HIV may be spread by mother-to-child transmission, blood transfusion and hemophiliacs.
3. What is the treatment for HIV/AIDS?
There is no cure for HIV infection now. Nevertheless, there are treatment options that can help people living with HIV experience long and productive lives. In Taiwan, Taiwan government has provided free medical treatment and free highly active antiretroviral therapy (HAART or ART) to the HIV/AIDS patients. The patients are given various free antiretroviral drugs depending on their condition after diagnosis.
4. What is the post-exposure prophylaxis for HIV?
Post-exposure prophylaxis (PEP) is the use of antiretroviral drugs after a single high-risk event to stop HIV from making copies of itself and spreading through your body. PEP must be started as soon as possible to be effective—and always within 3 days of a possible exposure.
5. When should I do the PEP test?
If you think you may have been exposed to HIV very recently, see a doctor as soon as possible to find out if PEP is right for you.
6. Where can I have the HIV tests?
There are 57 hospitals and 17 non-governmental organizations provide the anonymous testing. Also, each of city and country of health bureau and health clinic provide the test.
Resources
1.UNAIDS
2.WHO
3.Virtual AIDS office of Hong Kong
4.STI Online - Sexually Transmitted Infections (Sexually Transmitted Infections) Online
5.AIDS Prevention Information Network
7.National minority AIDS council
9. Asian and Pacific Islander Coalition AIDS on HIV/AIDS
10. HIV InSite Gateway to HIV and AIDS Knowledge
11. AVERT - A UK HIV and AIDS Charity